MS-DOS Goldies (complete collection)
I'm currently downloading the full set of .RAR files (via torrents though .. so it's slow, even on Infinity II, due to lack of seeders).
It is a Gamebase front-end (Windows) to a complete set of (almost) every MS-DOS PC game that's been released up until 2000. All launchable from the one Windows-based menu (so it'd be like the Amiga menus on the RCM machines).
I'll try and get all the stuff downloaded and put onto a small drive and bring it with me on my first visit to the new place. All being well that'll be the open day in August.
Total gigabytes (based on http://www.1337x.org/search/MS+DOS+Goldies/0/) will be approx 45gb (in RAR files) of olde worlde goodies 🙂
Topic starter
Posted : 02/07/2013 10:40 pm
Nice . . . very nice! 🙂 Would be worth putting that on an RCM machine for events . . . 😉
A
"I could see the faces of those who led pissing themselves laughing" - Funeral Pyre by The Jam
Posted : 03/07/2013 2:18 pm
Wow that will be excellent 8)
Posted : 03/07/2013 6:32 pm
Downloads were finished overnight.
Now I've just got to unpack them as well as copy them onto a small portable drive so I can bring them with me when I visit.
I will get some kind of "complete list of games" sorted out once I've got some free time. The screenshot from the dodgy y'arrghh site shows Screamer, which brought back horrible memories of my first helpdesk job giving advice to owners of the Byte Patriot machine which was supplied with this game .. but no DOS bootdisk to get it working properly 🙂
Topic starter
Posted : 04/07/2013 9:31 am
FInally unpacked it all and spent some time tweaking the files (it was pre-configured to run from a drive letter K: in the config!).
All I can say is .. Wow!
3734 games all ready to play from the menu. It uses Gamebase and you need to tell it where the 9 different copies of DOSBox are (which are all separately configured to use NoEMS, noXMS, EMM386 and such like) and each game knows which one to use.
And I've found Syndicate ... my favourite PC game and the reason I sold my Amiga 500+HD+28Mhz accelerator back in the day so I could hear it play proper music/sound FX through a brand new Soundblaster 16 + Creative Labs CD-ROM drive.
*Edit* .. exported the Access database into CSV, then into an XLS file. It's raw data and hasn't been messed with, but at least you can see the games available.
*2nd edit* .. downloaded the XLS file and edited it whilst skiving in work. Much smaller now and just has the names of all the games. Also included it in .TXT format too.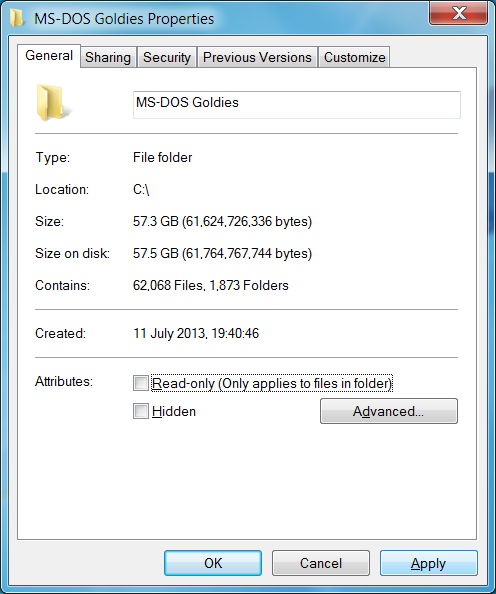 Topic starter
Posted : 11/07/2013 11:08 pm
OMFG . . . just gotta have that . . . 😉 Nice one Mike! 🙂
"I could see the faces of those who led pissing themselves laughing" - Funeral Pyre by The Jam
Posted : 11/07/2013 11:10 pm
One thing I've yet to try is plugging in a USB joystick and hoping it'll work with the games from yesteryear which are all looking for one connected to the Gamepad port. Does anyone know (off hand) if DOSBox's joystick handling can translate USB movements <-> Gamepad movements?
(I'll look when I get back after t'weekend if no-one's sure).
Topic starter
Posted : 12/07/2013 2:07 pm
That is very cool , need a copy of that! Next time I'm at RCM i'll bring what gamebases I have, the C64 one is pretty cool with loads and loads of lovely SIDs 😀
You fail it! Your skill is not enough, see you next time, bye-bye!
Posted : 13/07/2013 9:42 am
Another 8 volumes have been found, so I'll leave uTorrent running whilst I'm away this weekend 🙂
I've got no idea how big the drive will need to be now to copy this lot onto, but once they're all downloaded, I'll redo the list and total sizes.
If you want to get the set yourself, and you've got a decent connection speed, then you mustn't look at a torrent website that sounds like 'Elitex' but is in number form instead 🙂 And definitely don't type in "Goldies" into that site's search engine 🙂
Topic starter
Posted : 19/09/2013 8:42 pm
Latest files now downloaded. That's an extra 44Gb worth of olde worlde DOS games added to the collection!
To badly paraphrase the classic line from Jaws: "You're going to need a bigger h/drive" 🙂
Topic starter
Posted : 23/09/2013 10:13 pm