Mug UK's bits and bats
Atari 1040 STE (needs keyboard fixing)
Atari Mega STE (4MB, HD floppy)
UltraSatan SD card interface that works with both the above
C64 Breadbin
3 x 1541-II drives - but only one working PSU at the moment 🙁
MMC Replay - another SD card interface
Oodles of cartridge-based games
800+ floppy disks waiting to be imaged up!
Spectrum in a DK Tronics keyboard
Spectrum 128 +2 x 2
Divide interface - OK, not SD, but Compact Flash interface 😉
1 x Sega Saturn (Japanese model with Multi-Region BIOS)
2 x Gamecubes (1 modified, the other not)
SD Launcher device
Dreamcast (UK and Japanese models)
SNES (with Multi-Region BIOS c/o porchy and a SNES Everdrive). I also have a Double-Fighter Pro device - but it's still packed away somewhere.
N64 (USA model with a collection of pristine N64 NTSC & Japanese boxed games)
Chinese bootleg Megadrive (with Everdrive MD)
Xbox (with a proper chip and a 120Gb h/drive)
2 x briefcases full to the brim of Xbox 'homebrew'
1 x large box full of Xbox originals too (over 100 and counting).
PS2 - With network adapter and using HD Loader and a approx 60 or so original games.
PSP - Custom Firmware v3.30 with a 16Gb memory cards
PSP - Same as above but with a 4Gb memory card which is Eleanor's.
Approx 50 or so original games which will be sold off at some point.
Amiga 4000 (almost forgot that one!)
Atari Jaguar
I'm sure there's loads more but this is just off the top of my head for now
Topic starter
Posted : 07/03/2011 7:48 pm
Spectrum 48K+ (was found under the bed as I was packing up stuff ready for house move)
Recently bought some more GBA games and a protective bag so I can move the lot into a better environment.
Picked up some PS2 games at the local car boot (inc. Manhunt) - but waiting until I can get a PS2 HD set-up (I have the drives, Attic Bug have the PS2s and one network adapter) ..
Topic starter
Posted : 07/03/2013 2:12 pm
Found a Sega Master System and one of those uber-large joysticks that were released by Quickshot. Another system to test once I've moved and unpacked. It'll be a test of whether caking something in (ahem) 5 years of dust means it will still work afterwards 🙂
Topic starter
Posted : 12/03/2013 12:50 pm
Update:
Bought a few more PS2 games at the weekend in a charity shop/Crack Convertors haul around Oldham & Ashton. Only got into it due to finally getting the spare IDE drives I had put into the PS2s with the help of FreeMCBoot.
I will soon be (attempting to) flog off the following unused items:
All of my Xbox Original games
Boxed Atari Jaguar
Boxed NTSC N64 + the USA / Japanese games
95% of my GBA stuff (except the special RGCD games) (GBA SP + 54 games sold on ePrey, the RCGD games donated to RCM)
Other odds and sods that I can find that are taking up space (Got rid of loads of stuff to someone who's going to sort me out with a modern PC)
I need to slim down ready for a soon-to-be house move in/around February.
Topic starter
Posted : 24/09/2013 9:39 am
Play Expo (Blackpool) update:
Picked up a PSP and 9 games care of Attic Bug.
A mate dropped off an old breadbin style 1541 C64 disk drive as he (oddly) prefers collecting C64 games on cassette 🙂
Topic starter
Posted : 05/05/2014 11:08 pm
The guy who collects C64 cassettes (Emran) popped around last Sunday and I filled his car boot up with stuff. He's going to sort me out with a PC due to my current one being in the knackers yard. A replacement motherboard and processor has been sought for it, so I can get it working again, but it's now 3 weeks without my "big box under the TV". Good job I've got my steam-powered laptop ("Ivor") to tide me over.
His car boot ended up with 4 x of those over-sized Farm Foods / Lidl bags full to the brim of stuff. I end up with a couple of empty shelves and he sorts me out a more modern PC. The current PC that's in bits can go live at Eleanor's house so that she can set up a proper desk and use that for doing her eBay stuff on.
I'll finally get around to going to Windows 8.1 with 64-bit and oodles of memory.
Topic starter
Posted : 17/07/2014 9:12 am
I think I've got all the boxes out that had all my C64 stuff in .. although there could be more.
There's oodles of C64 originals (99% on disk) and then there's the two boxes of 'homebrew' from various sources (mostly from one guy in Germany though). I really need to sort out a purchase of ZoomFloppy to make headway on these. Imaging these up via an old X1541 device will take years and years 🙁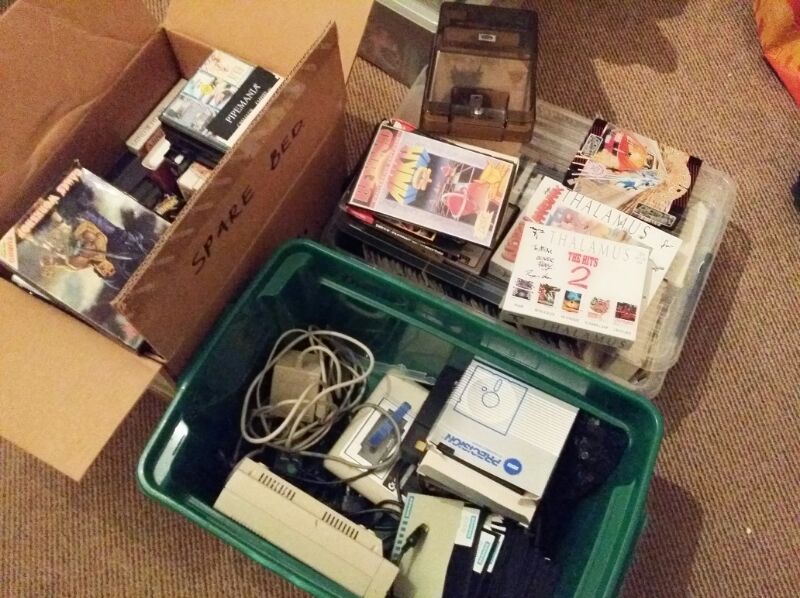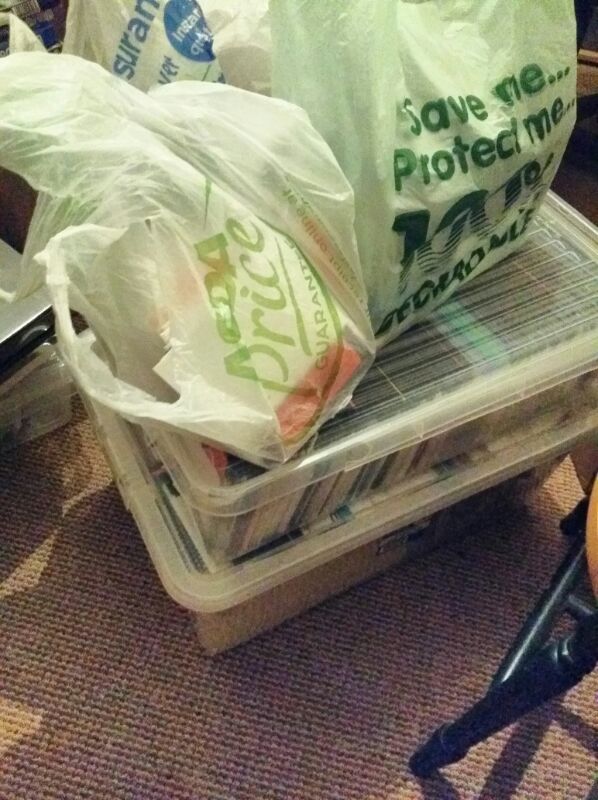 Topic starter
Posted : 31/10/2014 8:49 am
After sorting out almost all of my C64 stuff (into much neater boxes), I've taken the plunge and ordered a ZoomFloppy. Hopefully it will be a *lot* easier (and quicker) to start making images up of the C64 disks that I've acquired/bought/been donated over the years.
Topic starter
Posted : 05/11/2014 3:08 pm
Now on the look out for two replacement PSUs for my 1541-II drives.
Or does someone know how to create (or is selling) the replacement ones using the correct laptop power-supply (like I have for my Kryoflux) and a Molex->4 pin lead?
Topic starter
Posted : 10/12/2014 8:32 am