Christmas at the Retro Computer Museum - Sunday 6th December
FANCY A RETRO GAMING CHRISTMAS?
The Retro Computer Museum is having a christmas event at our HQ in Thurmaston on Sunday 6th December 2015 from 11.00am and going on until 10.00pm (ish).
As well as retro gaming galore there will also be LIVE music courtesy of our good friend EQUINOXE!
Tea/Coffee will be available - but you are most welcome to bring your own festive drinks too!
A food van will be available for most of the day selling a wide selection of items at great prices.
Entrance to this event will cost £10 (But please do donate more if you wish) This is payable via our Virgin Charity Giving page - link is on the home page of the RCM website.
Please note:-
There are a limited number of 50 tickets available pre-sale only! No tickets will be available to purchase on the day.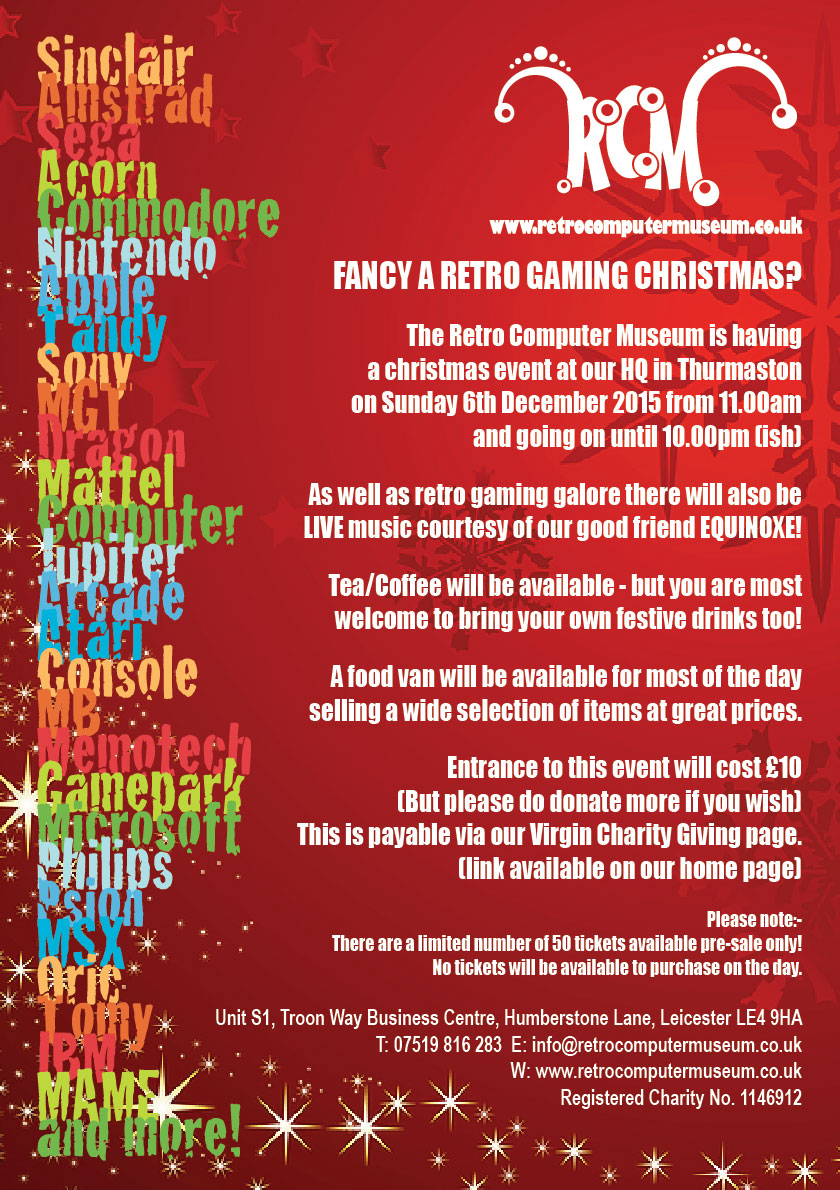 "I could see the faces of those who led pissing themselves laughing" - Funeral Pyre by The Jam
Topic starter
Posted : 10/11/2015 9:27 pm
Interesting, I'm thinking about it, you're so far away though 🙁
Posted : 11/11/2015 9:47 am
I'm on call that weekend - ARRRRGGGHHHHHHH!!!
David
Elite since 1987 on the BBC B, so why does Elite Dangerous on my PC say I'm only Deadly?
Posted : 11/11/2015 10:49 am
I'll be there for some of the day 🙂
Posted : 11/11/2015 1:20 pm
Donation made, I'll be there 🙂
Posted : 12/11/2015 6:33 pm
Move to Manchester. It's where most of us nut-jobs live 😛
Posted : 21/11/2015 7:38 pm
Attending a work colleague's wedding that weekend, so can't make it.
I also second the motion to have RCM relocate to Manchester 🙂
Posted : 23/11/2015 10:48 am
Monies finally paid ! ;D
Posted : 23/11/2015 1:14 pm
I had a great time yesterday. Big thanks to Andy and the team yet again.
I saw some nice stuff, learnt some new stuff, and was entertained by decent machines, games & music.
Posted : 07/12/2015 11:02 am
Traci and I had a great time too.
I'm sure she only comes with me because she knows she can kick my ass on n64 goldeneye 😉
We will definitely both be back again in the future.
Posted : 07/12/2015 1:26 pm
Great to see everybody there . . . really enjoyed myself too! 🙂
Ax
"I could see the faces of those who led pissing themselves laughing" - Funeral Pyre by The Jam
Topic starter
Posted : 09/12/2015 8:55 am
wow, awesome!
sad, cause gonna miss it
"No one can make you feel inferior without your consent."
? Eleanor Roosevelt, This is My Story
Posted : 11/12/2015 10:11 am