Games . . . that I can finish . . .
I will start this one off . . . as I finished it this lunchtime . . . 🙂
Bruce Lee on the speccy!
Please do not post stuff if you have cheated in any way - this is genuine - not a hard game at all but pleased that I can finish this and the C64 version too!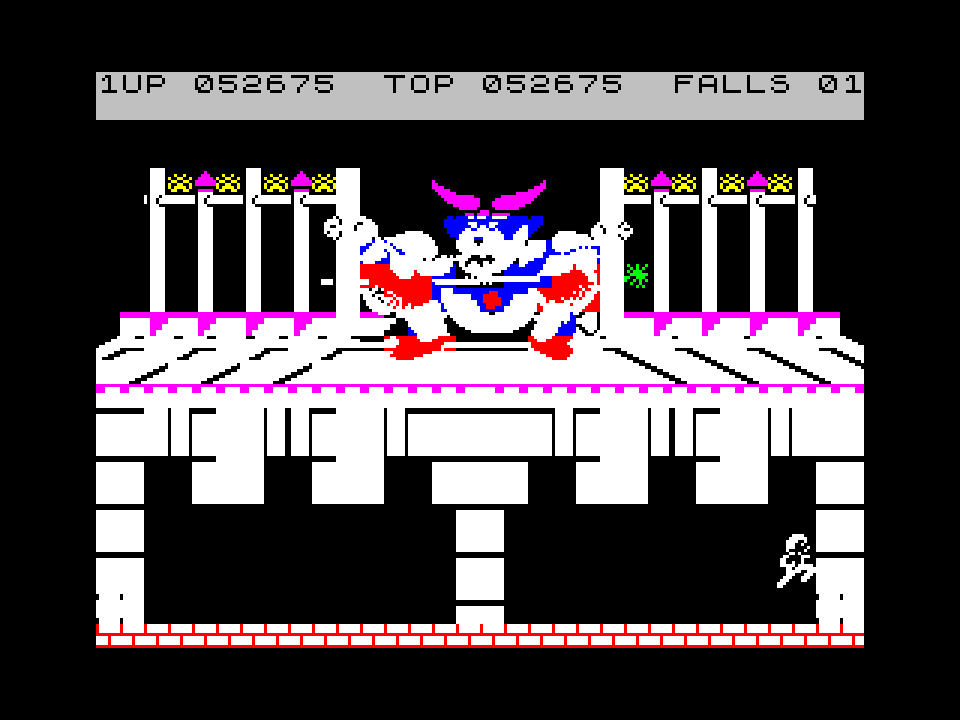 "I could see the faces of those who led pissing themselves laughing" - Funeral Pyre by The Jam
Topic starter
Posted : 29/07/2011 4:08 pm
Clearly I now need to complete Sonic 1 & 2 on the SMS (again) and post photos 😛
-- Richard
Posted : 29/07/2011 4:55 pm
Completed Megadrive Sonic 1 on MESS (without cheats).
Completed Wolf3d / Doom / Doom 2 / Quake / Quake 2 on PC
Gauntlet Legends / Dark Legacy on the XBOX
Manic Miner on the Dragon
Cheers.
Phill.
Posted : 29/07/2011 5:06 pm
Far too many to remember with the aid of a bit of saved-game hackery as was my want on the Atari ST but as that doesn't count in this thread:
The D&D hack & slash genre has been a favourite of mine so:
Baldur's Gate 1 & 2 (Xbox)
The one by Atari which I can't remember the name of
Bard's Tale (very funny remake)
More recently (on the 360)
GTA IV (plus the two DLCs)
Red Dead Redemption (and the Zombie add-on)
Just Cause 2
Far Cry 2
Assassin's Creed I & II (not finished off last part of AC: Brotherhood as of yet)
Posted : 29/07/2011 5:25 pm
Just a few, but Commando on the Commodore 64 must be the first one without cheating ! ;D
:: HeadingtonBard ::
[ http://www.alexarisgames.co.uk/ ]
Why not check out Google Play Store for more games to buy and for *FREE* with no adverts or nag screens !
Posted : 29/07/2011 7:39 pm
My list is very poor I'm afraid
Speccy
Treasure Island Dizzy
Magicland Dizzy
Fatasy World Dizzy
Street Gang
Turbo Esprit
Midnight Resistance
Ghostbusters
Southern Belle (yes really, but only once!!)
Atari ST
Carrier Command
Ghostbusters II
PC
Doom
7th Guest
Duke 3D
Half Life
Rtn to Castle Wolfenstein
GTA Vice City
Far Cry
Portal
Arcade
Midnight Resistance
TMNT
Golden Axe
Bubble Bobble
Moonwalker
The New Zealand Story
Chase HQ
Snow Bros
Tumblepop
Posted : 01/08/2011 4:13 am
Ones that I can remember !!
Spectrum
Bruce Lee
Stonkers (on the occasiosn it didn't crash !)
Atic Attak
Ghostbusters
Underwurlde
Amiga
Super Space Invaders
Secret of Monkey Island
Another World
Chaos Engine
Playstation
Resident Evil
Resident Evil 2
Resident Evil 3 - Nemesis
Metal Gear Solid
PC
7th Guest
Tomb Raider
Daedalus Encounter
Posted : 01/08/2011 10:22 am
Off the top of my head
C64 Bruce Lee
C64 Milk Race 8)
SNES Super Mario world
PS1 Metal Gear Solid (jap)
PS2 Metal Gear Solid 2 (jap)
Gamecube Resident Evil IV
Yeah I'm crap at games :'(
Posted : 01/08/2011 2:17 pm
That I can remember
Oric
The Hobbit
Arcade
The Simpsons
TMNT
Ridge Racer
Killer Instinct
PS2
Lego Star Wars I & II
PS3
Lego Star Wars Complete Saga
Metal Gear Sold 4
PC
Half Life1, 2, Episode 1 & 2
SNES
Super Mario World
Super Castlevania 4
Metal Gear Solid
Rock & Roll Racing
I know there are more but not many!!!!
Posted : 02/08/2011 9:29 am
Atari
===
ZYBEX - Love the game and I was Hooked and I had keep practises, practises,practises until I manager right to end and I get a CRAP ENDING :-[
NINJA - What a Joke game as I finished in my second go on that game!
C64
===
Turrican 1 and 2 - Love the game and I keep playing it until I become expert then I went on to finished the game!
Emlyn Hughes International Soccer - A Laughable Soccer game but good fun thought!
Midnight Resistance - Brilliant game
Amiga
=====
SWOS (Sensible World of Soccer)- took Local team to top of the Premier league and in few season, I went on to win Europe CUP of facing the MIGHTY BARCELONA! 8)
Alien Breed Specail Edition - It was bit easy but finding the exit in 60 seconds wasnt easy task as it all about Memories the map!
Supercar 2 - Amazing Music and Game too
Apidya - I keep playing it until I become expert then went on to finished game....Good Ending 🙂
Geoff Crammond FORMULA 1 GRAND PRIX - It is good game to finished but it is even better when playing against friends 😉
THE SECRET OF MONKEY ISLAND 1 and 2 - Excellent game with quite tough puzzle 🙂
PC
==
Commander and Conquer ZERO HOUR - Finished it all but it is even better when come online against friends!
Football Manager 10
CM 01/02
Megadrive
========
GOLDEN AXE
Mortal Kombat 1 and 2
Streets of Rage 1 and 2
Neo Geo
======
King of fighters 94
Arcade
=====
Viruta Striker 1 and 2 - Sega did make great football game at the time and when I beat the final then unlocked the team which my team face SEGA TEAM! 8)
Outrun
King of Fighters 94
PS One
=====
Resident Evil
Resident Evil 2
Resident Evil 3
Soul Edge
Tekken 3
PS 2
====
Devil May Cry 1 and 3 - Amazing game with Great Story!
Resident Evil 4
Tekken 5
PS 3
===
King of Fighters XII - Too easy!
Mortal Combat
F1 Champtionship Edtion
TEKKEN 6
SOUL Calibur 4
Outrun HD
Fight Night 4
Posted : 06/08/2011 12:05 am
Rather than list them all (;)), I'll just list the ones I'm most proud of:
All the last ninja games on the c64
Wizball on the c64
IO on the c64 (just kidding - NO ONE CAN COMPLETE THAT! :'()
But I'm most proud of:
Actraiser (Japanese tough as nails version - makes the PAL and US versions look like a walk in the park and not just cos all the Japanese writing makes the game indecipherable!)
Cheers...
Posted : 29/09/2011 12:13 pm