my first car
hi all just backing up my old zip disk and found my old car pics ...
As you will see my mad modding started early
i put a full P2 pc inside running on 2 7" monitors and a 150db sound system filler fomed side panels (and front ones (windows didnt go down) for sound profing and a full blue under lights for the ufo look
when i tanken this for an mot the bloke just lol and lol and p***ed him self failed the mot due to me painting the windows with black gloss
james
Sega went from 16bit to real life with the megaCD
Topic starter
Posted : 23/05/2011 7:45 pm
Posted : 23/05/2011 8:24 pm
😛
"I could see the faces of those who led pissing themselves laughing" - Funeral Pyre by The Jam
Posted : 23/05/2011 8:25 pm
Wicked Spoiler ! 😉
My first car was a Ford Fiesta 'E' Reg, in white and I called her ' Gina G ' after the Eurovision entrant ! 🙂
:: HeadingtonBard ::
[ http://www.alexarisgames.co.uk/ ]
Why not check out Google Play Store for more games to buy and for *FREE* with no adverts or nag screens !
Posted : 23/05/2011 8:49 pm
Yeah baby! Love it!
My first car was a Ford Escort Mk2 which was handpainted red to hide the hideous metallic purple that was used to cover up the original brown paint!
Brakes were not included with this model according to 'Gary' and neither were the rear seats as these has been replaced with a fire extinguisher. Some say it was a right pile o crap (tm) but me, i saw the Gran Turino from Starsky and Hutch and planned to paint the white line that very next day.
I remember pulling up to the lights next to RS Hillman Avenger GTO Turbo Superduper model (in Tan) and rev'd the engine. My opponent did the same. Feeling the tension between us, his wife put her knitting needles down and grabbed onto her tartan picnic blanket.
As we gunned our engines, an excited postman on his push bike,fancying a piece of the action, pulled along side and reving his pedal - Although looking back now it's probably to get away from all that smoke pouring out of the back.
Light on green..Go go...begin warm up procedure...go
I recall it was a close race. If it wasn't for the Avenger's engine leaping out of the bonnet and hitting the postman i doubt i would have won. Suffice to say..my victory was short lived. I had a fire to put out.
Twas a great car and sadly missed. My next motor was a Vauxhall Viva in 'Starfire copper' but that's another story.
Posted : 25/05/2011 9:15 pm
My first was a baby blue Y (old) reg Fiesta. A post office van crashed into me 2 weeks after I got it. It had a 0.9l engine!
Then I had...
Ford Siera saphire (E)
Astra Estate (F) (the passion wagon according to my mates - i wont go into why its called that)
VW Mk3 Golf (K) Sold to my brother.
Renault Laguna 2L (Company car)
Astra 1.6 (Company car)
Vauxhall Combo van (Company van - hated it - so uncool)
Astra 1.8 SXi (Company car)
VW Mk3 Golf (K) (Bought it back of my brother!)
Rover 216i (N)
Nissan Micra (L)
I now have a Ford Focus 1.8 Zetec. Ive had a few cars in my lifetime!
Andy
https://www.retrocomputers.online
Posted : 26/05/2011 10:15 am
My first car was a 1973(L) 1303S VW Beetle, unfortunately it had lost it's "S" at some point of its life.
My first drive in the car resulted in the battery falling through the floor onto the road!!
It needed a little work 😮
Had it sprayed a vivid blue colour (Peugeot fijord blue-still have some left in the garage) removed the chrome trim, one piece door windows (removed the 1/4 light windows) lowered suspension, and exhaust so loud mates in the next vilage new when I was on my way over. To counteract the loud exhaust I fitted a Kenwood CD player, this was in the days that a car CD player was pretty much unheared of, oh it was CD only, no tuner! 3 amps that pushed out 1500 Watts, a big 12" sub etc etc.
I absolutely loved that car, I killed so many engines, span so many times and ended up in countless ditches!
I remember going out for lunch from College one day and took 8 mates in the car with me, including one mate folded up into the front bonnet!
A VW Split screen microbus followed, bougt for £50, it sold again recently for £20,000!! wish I had held on to that one! (great for transporting 16 mates around, even though it was a 9 seater!, even took it off roading, surprised a few land rover drivers, and killed the back seat when I got it airborne and 3 mates landed back on the seat when we touched down ;D
Happy days
here is a pic of the bug in it's very early stages of transformation, it's the orange one on the left (it's got 1302 tail lights on for you VW geeks!)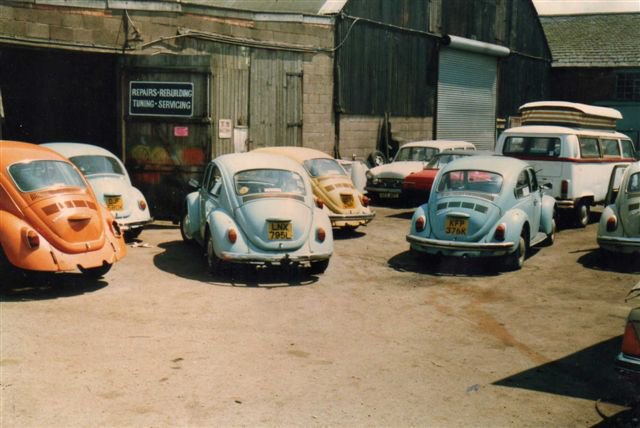 Posted : 26/05/2011 12:18 pm
Well here's my list, had a fair few over the years, and I used to like my modding 🙂
Austin Maxi (old, old K reg 1972 !) - seats from a toyota celica, front spoiler, rostyle wheels from an MGB-GT, debadged, dechromed, 1750cc engine fitted with twin SU carburettors.
Ford Cortina Mk3 XL(P reg 1976) - standard 1600cc engine, 5 spoke wolfrace alloys, corbeau sports seats.
Ford Capri mk2 (R reg 1977) - 2000cc, Weber twin choke carb, K&N sports filter, straight through exhaust (and I mean straight through), single cherry bomb silencer, you could hear it coming from around 1/2 mile away !!, full body kit, Ghia alloys, quick shift spring loaded gearbox, went like the clappers, shame the handling was attrocious !
Austin Metro MG (Y reg 1982) - 1275cc, totally standard, loved that car won 3rd place in the Metro class at the 30th anniversary mini meet 🙂
Vauxhall Cavalier SRi (Y reg 1982) -1800cc, fantastic car, well quick back in the day ;D
Vauxhall Cavalier CDi (B reg 1984) -1800cc, very well spec'd car for the time, central locking, electric windows all round, even had headrests in the back when some new cars still didn't have them in the front !! uber quiet due to extensive factory standard sound proofing
Austin Metro L (D reg 1986) - 1275cc engine, rebuilt from a written off shell, resprayed, fitted with metro GTa seats, MG red carpet and seat belts and MG turbo alloys.
Vauxhall Cavalier GLi (G reg 1990) - 2000cc, colour coded alloys, nice quick car.
Ford Fiesta XR2i (G reg 1990) - 1600cc, now this was my real baby, went to town on this, fitted escort cosworth style front bumper with original cosworth lights, mondeo estate rear spoiler, 15" 5 spoke alloys, recaro front seats and rear headrests, escort cosworth front discs and calipers. Full engine rebuild with pipercross air filter, ashley 4 branch exhaust manifold, custome made stainless exhaust. 1600w stereo system (2 x800w amps), 2 x 10" subs in the boot, 2 x 6"x9" three ways in the rear shelf, 2 x 6" woofers, 2 x 4" mids and 2x 1" tweeters in the front coupled to a pioneers headset with 6 disc autochanger.
Here's the fiesta back in the day, still had the same user name way back then !!
Ford Mondeo Ghia V6 (N reg 1996) - 2500cc, fanstastic fully loaded car with every factory extra except leather trim, done more miles than the starship enterprise when i sold it, and still almost silent when cruising on the motorway.
BMW 1 Series 118d (54 reg, 2004) - 2000cc TDi, company car, best car I ever had by a mile, comfortable cruising on the motorway, but get it on the country lanes and it handled like a go kart !!
Honda Civic Sport (02 reg 2002) - 1600cc, 3 door sporty looking car, high spec with half leather, climate control etc. as standard
Honda Civic Sport (53 reg 2003) - 1600cc, exactly the same spec as the last one, different colour and lower mileage !
Volkswagon Passat S (06 reg 2006) - 1900cc, Company car was OK, loads of space, comfortable but handled like a bus.
Ford Focus Style (57 reg, 2007) - 1600cc TDCi, company car, comfortable not the quickesst but handles superbly.
And that's me upto date
Posted : 26/05/2011 12:30 pm
Blimey - you get through cars!!
I have only ever had 2!
1998-2001 - VW Golf Mk3 (M Reg) 1.4 Litre, horrendously underpowered, had to prebook any acceleration about a week in advance.
2004-2006 - Alfa Romeo 156 Monza, (NZ Rego so no letter) 2.4 Litre V6, 6 Speed, insanely fast.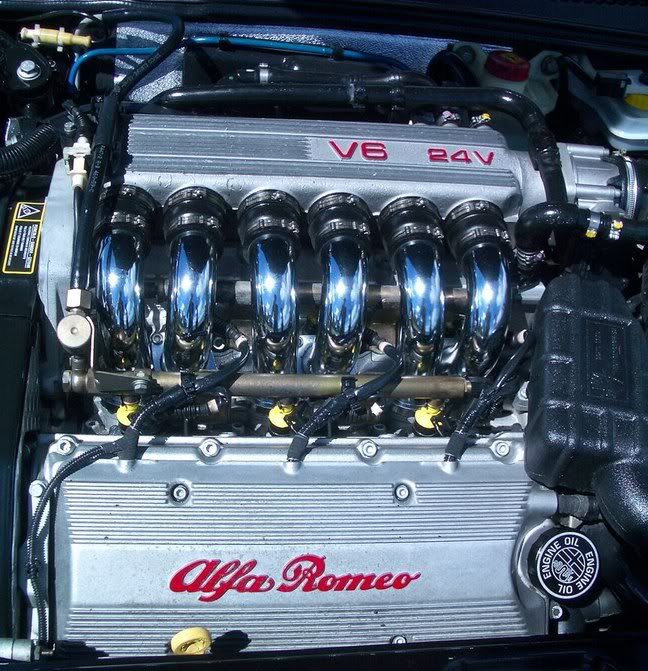 Absolutely loved it, but had to sell when I moved back to Oz as the import duties on European car are bonkers, damn it was quick tho, got it upto 150mph on the freeway out of Auckland and it was still accelerating hard in 6th when I bottled it. It also never did the Alfa thing of breaking down either 🙂
Posted : 27/05/2011 8:30 am
My list isn't as extensive as some.
From 1996 - 2011
1977 BL Mini
1980 BL Mini
1986 MG Metro
1987 MG Metro
1987 Austin Metro 1.1
1986 MG Metro
1988 MG Metro Turbo
1981 Triumph TR7
1972 VW Beetle
1989 Toyota MR2 MK1
1988 Nissan 300ZX Turbo
1992 Mazda Eunos (MX5 import)
1966 VW Beetle
1994 Renault Clio
Here's some of them
http://www.facebook.com/media/set/?set=a.484116999745.258424.684989745&l=0e95aa4050
only pics I could link/

Posted : 27/05/2011 2:10 pm
Well if this is turning into a list your cars thread i'm game:
1973 VW 1303S Beetle
1967 VW Micro Bus (Ex German Fire Brigade)
1964 VW Type III 1500S "notch back" won neumerous shows
1962 VW Type III 1500 - ultra rare red needle dash model -swedish import
1967 VW Type III Square back - Rare "Factory Black" sunroof modle - imported from California
1972 VW Type II Fastback - one owner, 20,000 miles from new
1969 VW Type III Fastback -Automatic
1973 VW Camper - 2 litre porsche engine, quick but could empty a tank of fuel really quickly!
1966 VW Camper- Split Screen, Canterbury Pitt conversion
1970 VW Beetle 1200
1972 VW Beetle - California look
1957 VW Beetle Convertible - georgeous
1965 VW Beetle 1300 - still got this one!
1980 VW Golf Mk1 Driver
1982 VW Golf Mk1 GTi Campaign modle in Helious Blue 8) :-*
1984 VW Polo Coupe S
1984 Astra Sri - company car
1991 Renault 19 16V - horrible piece of crap-company car
1998 Ford Focus Zetec (one of the first in the country) -company car
1997 Scenic - again a horrible french POS
1992 VW Astra - company car
1993 VW Golf estate -company car
2002 MG ZR - loved this car to bits
2003 Ford Focus Cmax - liked it, but it did not like towing a caravan
2003 SAAB 95 Vector Estate , modded!! 225BHP, but only 19mpg fantastic car, a real sleeper, upset a lot of BMWs and Chavs
2005 Nissan Xtrail - a tank but I love it
throw in a couple that I can't remember the years of, Honda Accord with some stooopid engine, Saab 95 Aero (1997 ?)
Posted : 27/05/2011 10:46 pm
Blimey some of you have had an awful lot of cars!
Not too many here, later on I went more down the motorcycle route.
1988 started with a Vauxhall Nova 1.2L (written off 2 years later)
1990 Vauxhall Nova 1.4 SR (lasted me 11 years)
1994 Porsche 944 Lux
1995 Porsche 944 Turbo S my pride and joy, was one of only 12 made in SE spec but custom colour/upholstery, had to go when I split from my long term partner.
1999 Fiat Bravo 1.8 HLX
2005 Ford Focus 1.6 Zetec
Motorcycles!
1996 Suzuki GS500E
1997 Yamaha YZF750R (Stolen after 3 months)
1997 Suzuki TL1000S
2004 Suzuki GSXR1000K4 Limited Edition
2011 Slippers and newspaper 8)
Be sure to pray at the Shrine of Bub & Bob
Posted : 31/05/2011 12:41 pm
erm . . . no idea on dates but I will give you a list of my cars . . .
X Reg Toyota Carina 1.6 (Petrol)
C Reg Ford Escort 1.6 (Petrol)
? Reg Ford Fiesta 1.4 (Petrol)
H Reg Ford Escort 1.6 (Petrol)
M Reg Ford Mondeo 1.6 (Petrol)
S Reg Ford Escort 1.8 (Estate - Diesel)
01 Reg Peugeot 307 2.0 (Diesel)
03 Reg Ford Fiesta 1.4 (Diesel)
53 Reg Ford Focus 1.8 (Diesel)
I think that is it . . . not much of a variety! 😉
Worst car . . . Peugeot 307 . . . Best Car . . . Ford Focus . . . next car . . . no idea! 😉
"I could see the faces of those who led pissing themselves laughing" - Funeral Pyre by The Jam
Posted : 31/05/2011 1:02 pm
Can't remember any of the engine sizes or the year of the car, but in typical female style i can tell you the colours!!!!!
Vauxhall Viva (Brown)
BL Mini (Sand Yellow)
Austin Metro (Light Blue)
Newer Metro (Sky Blue)
Ford Fiesta XR2i (White)
Ford Mondeo Estate (Dark Blue)
Peugeot 505 Estate (Silver)
J - Toyota Previa (Silver)
Ford Tourneo (Metallic Blue)
51 - Toyota Previa (dark Blue)
Next car..........New Seat Alhambra (Dark Blue)
Posted : 31/05/2011 3:23 pm
Ooooh new car Linda, Superb! ;D
When is delivery?
Be sure to pray at the Shrine of Bub & Bob
Posted : 31/05/2011 4:36 pm