ARCADE 2 AND 4 WAY JOYSTICK FOR MAME PC.
Hi
This is a review of a fantastic joystick i have just bought on ebay, it is made especially for mame etc and features 2 and 4 way movements needed for games like Pac-man, Donkey Kong, Mr.Do! , Burgertime etc
It is a faithful replica of the old days of arcade gaming.
Housed in a sturdy plastic box with suckers on the bottom and sporting a rather superb MR.DO! faceplate, this stick does everything you could want it to.
while not suitable for 8 way direction games it is amazing for the older titles. It's construction is very sturdy and feels "right" when using. It really feels like you are standing at the machine. Put simply if you have mame and a pc then you must have one of these!
The maker of this stick is a reliable and friendly person who is currently working on an eight way and 4 button version for later games.
At a price of £20.00 this 2 and 4 way version is a real bargain!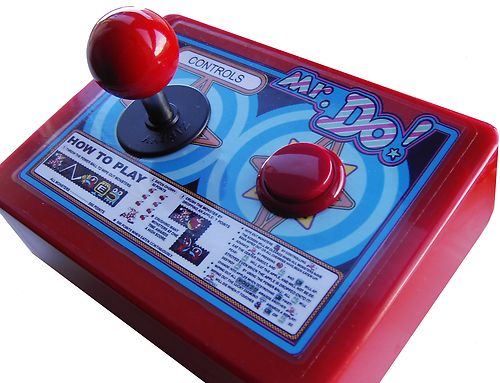 Topic starter
Posted : 15/06/2013 6:51 pm
Nice - do you have a link for this? 🙂
"I could see the faces of those who led pissing themselves laughing" - Funeral Pyre by The Jam
Posted : 15/06/2013 7:50 pm
Hi
i have the sellers id if that helps?
arcade-84
well worth it ;D
Topic starter
Posted : 16/06/2013 10:15 am
nice cases, wish I could locate a nice box. I have loads of arcade sticks and buttons just waiting for a nice project box 😉
Posted : 17/06/2013 8:29 pm
could you give me the measurements of the box please
Posted : 17/06/2013 11:58 pm
l 17 cm
w 13 cm
h 6 cm
all approx
Topic starter
Posted : 18/06/2013 9:11 am
Cheers, I think I might have found something suitable to make a 2 button 7800 arcade stick
Posted : 18/06/2013 11:04 am