Review: JXD S5110 - 5" Android 'Player'
Hi everybody . . .
My lovely wife Linda (TheTwins) got me this bit of kit for christmas as she knows that . . .
a) I love gadgets
b) I love android stuff
c) I love retro gaming
and
d) I am actually still a teenager at heart! 😉
on to the review . . .
Opened up the box - comes with a PSU, USB lead, Headphones, Manual (in Chinglish) and a DVD full of stuff (!)
First impressions of handheld build quality is VERY good! It looks just like a PSP but quite a lot bigger - due to the 5" screen. It boots up very quickly into a very interesting menu - when I say interesting it is nothing new really (pretty standard 'droid stuff) but it is the content that is pretty stunning - lots of FULL price games and several emulators.
Games: Angry Birds Rio, Fruit Ninja, Cut The Rope, Fishing Joy, Clouds and Sheep, Air Attack, X-Formula, Summit X, Trial X2, Robo Defence, Marv The Miner and a few more.
Emulators: Nes Emulator, MD Emulator, N64 Emulator, GBA Emulator and of course MAME - all with several games pre-loaded for each.
I have installed some bits and bobs myself and everything I have tried so far has worked flawlessly, VLC (video player) plays lots of formats without jumping, Netflix also plays extremely well and it is a very clear picture.
I have noticed that some stuff on the Play Store are not compatible with this device (no idea why?) as 99% of the new stuff is compatible . . . so . . . strange one there . . . Max Payne, GTA are NOT compatible! 🙁
Onto actually using it . . . simple to use (as are most 'droid devices) . . . the touch screen is really responsive and I have no issues at all with that. Equally so the controls/buttons are all very responsive and for emulators are absolutely fantastic.
I will continue to play/use it and add more bits in here when I can.
I can't find anything wrong at all so far about this great bit of kit - just purchased a 16gb micro SD for it and will be adding lots of games etc to the emulators as and when I can! 😉
EDIT: Forgot to mention the 'ports' and buttons on this thing too . . . Micro SD, HDMI out, TV Out, USB, Headphones and DC input. Buttons - Left and Right Shoulder Buttons, Power on/off, volume up/down, Left, Right, Up and Down digital and the same Analogue, Select and Start Buttons, Triangle, Square, Circle and X buttons and of course Back and Home buttons! 🙂
Cheers
Andy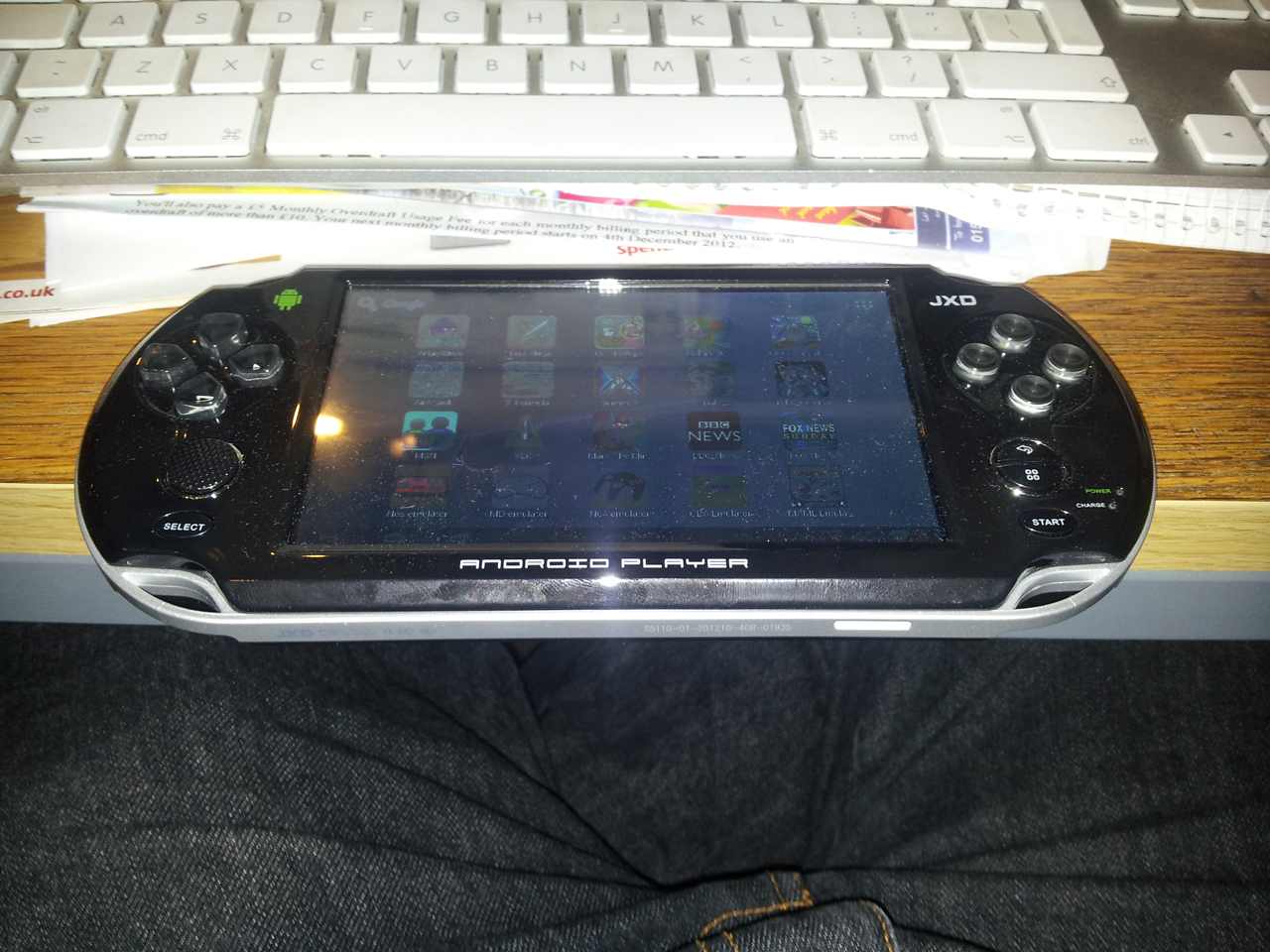 "I could see the faces of those who led pissing themselves laughing" - Funeral Pyre by The Jam
Topic starter
Posted : 29/12/2012 6:08 pm
More info on this - just added a Marvin - the Speccy emulator . . . and you can use a bit of software on there to map keys . . . it is so easy! 🙂
Also - they are available to buy for £65 again (RRP should be £199)
http://www.gogroopie.com/deal_details.php?id=736&src ="kids-25"
🙂
"I could see the faces of those who led pissing themselves laughing" - Funeral Pyre by The Jam
Topic starter
Posted : 19/01/2013 11:05 am
hi Andy, can you check the Atari 800 emulator on it, and check the speed it runs at. I have been thinking about getting one of these for a while, but I think there is a dual and quad core version just around the corner.
Posted : 21/01/2013 8:29 pm
will do mate - as soon as I have tested I will post here . . . 😉
A
"I could see the faces of those who led pissing themselves laughing" - Funeral Pyre by The Jam
Topic starter
Posted : 21/01/2013 8:30 pm
thank you kind sir , I have a chunk of amazon vouchers burning a hole ;D
Posted : 21/01/2013 8:34 pm
Posted : 18/02/2013 11:16 am