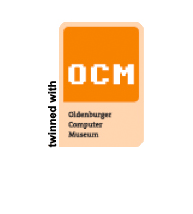 CLOSED UNTIL FURTHER NOTICE


If you would like to help us continue 'behind the scenes' and donate money to help us pay the rent
PLEASE do so using the Virgin Money button at the bottom right hand side of this page.
Your support and help in this very troubling time is very much appreciated. See you ALL on the other side.





The Retro Computer Museum is a registered charity (Charity registration no. 1146912) dedicated to the benefit of the public for the preservation, display and public
experience of computer and console systems from the 1960's onwards.
Our main focus is on systems that were in use in the home, rather than big computer systems and mainframes of early computer development. We have systems ranging from
the 1970s – such as Binatone Pong and of course the amazing Commodore Pet right up to the lovely delights of the late 1990s – with systems such as the Sega Dreamcast.
Along with the fantastic and varied machines of the 1980s too we have a huge collection of retro gaming goodness.
Not only do we open on most Sundays to the public but we also provide Retro Gaming and Computing Events for Schools, Colleges, Unversities, Corporate or Birthday
Parties – either at our HQ in Leicester or at your premises – depending on systems required. Please contact us using the details above for further details.
We rely totally on donations from our members and visitors and have had literally hundreds of systems donated as part of our collection, along with numerous books,
software titles, peripherals, magazines, brochures, etc. We appreciate any and all donations, no matter how small. We also accept dead machines and peripherals as these can
be used to repair existing systems. We are 100% staffed by volunteers but can be contacted for any queries or donation offers by using the contact details at the top left of this webpage.
Entrance to the museum costs £7.50 for adults and £4.00 for children – with over 40 systems that are fully hands on!

COMMENDED – Small Visitor Attraction Of The Year 2019